13.03.2015 6pm
Opening
13.03.2015 11am
Press talk
On Fridays at 5pm a guided tour is offered
The exhibition is open on May 1 and May 14, 2015, 10am to 6pm
Free admission May 15, 6pm to May 17, in the frame of aktuelle kunst in graz
free shuttle service
in the frame of aktuelle kunst in graz
Vienna – Graz – Vienna, Friday May 15, 2015
Departure Vienna: 3pm, bus stop Opera, Bus 59a
Departure Graz: 11.30pm Kunsthaus Graz, Lendkai 1
Saturday 16.5., 11am, in the frame of the aktuellen kunst in graz-guided tours: tour with the art critic Christa Benzer
The exhibition will be accompanied by a comprehensive online publication with contributions by Jörg Albrecht, Armen Avanessian, Timothy Scott Barker, Jonathan Crary, Sandro Droschl, Denise Sumi and the artists.
An Art Day's Night / supporting programme:
Every Thursday at 6pm, admission free (except on public holidays).
CMRK exhibitions
www.cmrk.org
DIDING
An Interior That Remains an Exterior?
Michele Abeles, Laura Aldridge, Trisha Baga, Alisa Baremboym, Anna Barham, Dora Budor, Lisa Holzer, Josh Kolbo, Julian Palacz, Charlotte Prodger, Sam Pulitzer et al., Jon Rafman, Sean Raspet, Hannah Sawtell, Jack Strange, Sergei Tcherepnin, Stewart Uoo, Jordan Wolfson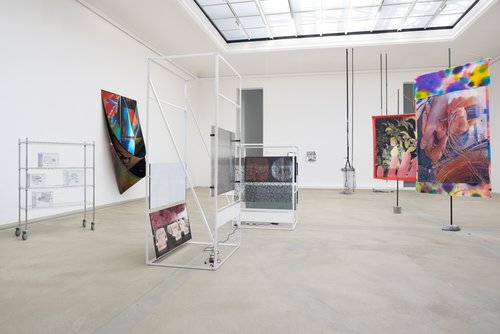 DIDING An Interior that remain an Exterior?
,
2015
exhibition view, Künstlerhaus, Halle für Kunst und Medien
,
photo: Markus Krottendorfer
Künstlerhaus
Halle für Kunst & Medien
Burgring 2
8010 Graz, Austria
HALLE FÜR KUNST
Steiermark