Press talk:
Dec 7, 11 am
The exhibition will be shown one after another at two institutions at Maribor and Graz.
Umetnostna galerija Maribor
Trg Leona Štuklja 2
07.10 - 12.11.2016
Opening: 06.10. 7pm
Künstlerhaus, Halle für Kunst & Medien
Burgring 2
08.12.2016 - 26.01.2017
Opening: 07.12. 6pm
Artist talk: 26.01.2017, 6pm
Cooperation:
UGM Maribor Art Gallery
Strossmayerjeva ulica 6, 2000 Maribor, Slovenia
http://www.ugm.si/en/
Catalogue available
In the frame of the opening the edition "unter ein Bild" is presented with an introduction by Ruth Horak.
The edition (50+12a.p.) was realized with the friendly support of the art collection of the City of Graz.
Part of www.cmrk.org
Free Shuttle Service on the day of the opening
Departure Vienna Dec 07, 2016, 3pm, opera bus stop, Bus 59a
Departure Graz Dec 07,2016, 11:30pm, Künstlerhaus, Burgring 2
More CMRK openings on Dec 07, 2016:
7pm < rotor >
8pm Camera Austria
9pm Grazer Kunstverein (guided tour)
Claudia Märzendorfer
72 km+
Claudia Märzendorfer
,
72km+
,
2016
Künstlerhaus, Halle für Kunst & Medien
,
photo: Markus Krottendorfer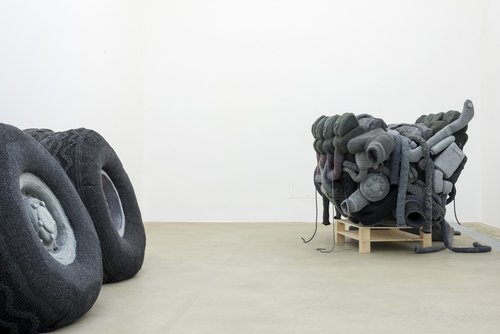 Claudia Märzendorfer
,
72km+
,
2016
Künstlerhaus, Halle für Kunst & Medien
,
photo: Markus Krottendorfer
Claudia Märzendorfer
,
72km+
,
2016
Künstlerhaus, Halle für Kunst & Medien
,
photo: Markus Krottendorfer
Claudia Märzendorfer
,
72km+
,
2016
Künstlerhaus, Halle für Kunst & Medien
,
photo: Markus Krottendorfer
Claudia Märzendorfer
,
72km+
,
2016
Künstlerhaus, Halle für Kunst & Medien
,
photo: Markus Krottendorfer
Künstlerhaus
Halle für Kunst & Medien
Burgring 2
8010 Graz, Austria
HALLE FÜR KUNST
Steiermark