06.03.2013 6 pm
Opening Künstlerhaus
Opening-Performance Reto Pulfer
On 8 March
a free shuttle service will be offered as part of the
CMRK exhibition openings at Camera Austria, < rotor >, Grazer Kunstverein, and KM– (all exhibitions will have extended opening hours on this day from 6–10 p.m.): departure Vienna, 3 p.m., Opera, IKEA parking lot; return departure, Graz, 11:30 p.m., Kunsthaus Graz, Lendkai 1.
18.04.2013 7 pm
Lecture Simon Baier
Painting and Dispersion
25.04.2013 7 pm
walking the deadline (revisited)
Vein and Decadence under the Sign of Medial Self Positioning
02.05.2013 7 pm
Artist Talk Lotte Lyon
03.05-05.05
On the occasion of Galerientage – aktuelle kunst in graz, KM– offers special openings hours on May 3 from 11am until midnight and a reduced admission. At 10pm director Sandro Droschl and curator Christian Egger talk about the exhibition "Chat Jet. Painting Beyond The Medium". Admission is free for all visitors during the curators talk.
Chat Jet
Painting ‹Beyond› The Medium
Franz Amann, Ei Arakawa / Nikolas Gambaroff, Monika Baer, Will Benedict, Andy Boot, Jana Euler, Manuel Gorkiewicz, Wade Guyton, Clemens Hollerer, Alex Hubbard, Jutta Koether, Michael Krebber, Anita Leisz, Lotte Lyon, Birgit Megerle, Chiara Minchio, Ute Müller, Reto Pulfer, Blake Rayne, Pamela Rosenkranz, Stefan Sandner, Gedi Sibony, Reena Spaulings, Lucie Stahl, Cheyney Thompson, Jessica Warboys, Alexander Wolff
Alex Hubbard
,
Hit wave
,
2012
Video 4:25 min.
,
Courtesy Galerie Eva Presenhuber, Zurich
Exhibition view, KM–
,
2013
Photo: Markus Krottendorfer
Exhibition view, KM–
,
2013
Photo: Markus Krottendorfer
Exhibition view, KM–
,
2013
Photo: Markus Krottendorfer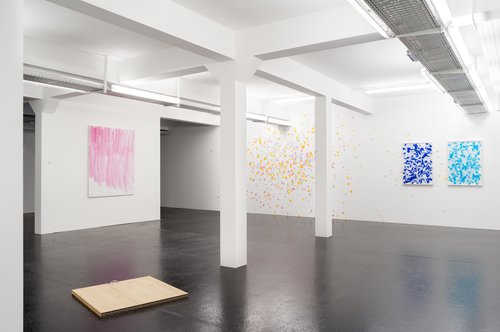 Exhibition view, KM–
,
2013
Photo: Markus Krottendorfer
Künstlerhaus
Halle für Kunst & Medien
Burgring 2
8010 Graz, Austria
HALLE FÜR KUNST
Steiermark